Grenada Hit by Hurricane Ivan
---
Report from HopeLink President, Bob Simpson
On Friday Sept 7th 2004 Hurricane Ivan hit the island nation of Grenada causing 90% of the homes, churches and schools to be seriously damaged or destroyed. Six days later I received a phone call from Eleanor Swan the director of Project Hope, a centre for youth at risk, that we helped to build 10 years ago. Eleanor had some amazing news! Most of the homes of the staff had been destroyed, but Project Hope remained intact - one of the few buildings on the island still standing. Eleanor, a dynamic young leader asked if I would come to the island to see if once again we could help.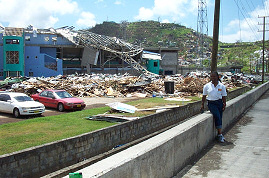 On Sept 24th I flew to the island and was greatly saddened by the devastation that met my eyes. Eleanor took me around the island viewing the unbelievable destruction wrought by Ivan. St Georges Harbour with its picturesque houses was now a scene of desolation.
Eleanor then took me to the home of the Prime Minister, the Hon. Keith Mitchell, who remembered us from the early nineties, when we built Project Hope. He asked if we could once again come to the island with volunteers and help the Grenadians with one of their greatest needs - the rebuilding of their schools. As we left, I said we would do all that we could to help.
HopeLink Responds to Request from Grenada PM and Pastors to help rebuild schools
From the Prime Minister's home we traveled into St Georges, where an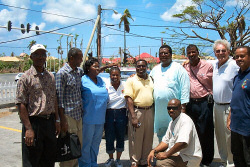 unbelievable encounter occurred. I noticed a group of eight people getting out of two cars. All of a sudden we were being introduced. The group was made up of three Grenadian pastors, and the rest were pastors and medical doctors who had come from other nations to see how they could help. Within ten minutes we had agreed to work together for the purpose of bringing teams to help the people of Grenada. All of us marveled at how God's timing had allowed us to come together for this brief meeting on the sidewalk.
Since that encounter we have had several phone conversations with these pastors discussing how we can work together in this mission, which we have named "Mission Grenada School Rebuild Project."
This mission will take place over the next 14 months and will involve sending teams each month to help rebuild a number of schools.
Please pray that God would provide the volunteer work teams and the finances to make it possible for Grenadian youth to return to their schools in the coming year.