Besee is located just outside the capital city of St. Lucia – Castries, and is home to approximately 400 families who struggle daily for survival.
Most live below the poverty level, their children – the victims of neglect and abuse. Castries, and Besee in particular, face an escalating problem among their youth in many areas:
VIOLENCE
Vandalism, burglary, and violent crimes are increasing at an alarming rate. The number of murders has risen dramatically in recent years and public officials are wondering how to cope with the situation.
DRUGS
With nothing to do, and no skills whereby they can get a job, St. Lucian youth are especially vulnerable to a variety of drugs that are prevalent and accessible on the island.
TEENAGE PREGNANCY
Many young mothers find themselves without family support and skills. They are vulnerable to a downward spiral of dependency.
CHILDREN "DROPPING OUT" OF SCHOOL
The dropout rate has grown exponentially in recent years, and the need for trades training has become critical.
THE PLAN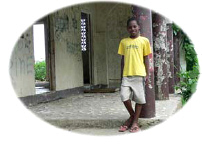 To Build a Training Centre that will reach out and meet the needs of children and youth in the high-risk, socially disadvantaged Besee district of Castries.
The Centre will provide a:
Computer Lab for Literacy to help children who have minimal skills in Literacy and Numeracy.

Leadership Skills and Conflict Management courses to overcome the violence and abuse that have increased at an alarming rate in recent years.

Trade Skills in the fields of welding, electrical, plumbing, cabinet making and general construction will be taught.
What has to be done?
In 2007 an existing building owned by the Salvation Army was refurbished and the Salvation Army began programs to reach out to their neighbours. The goal of this project is to develop a program that delivers a Literacy and Trade Skills Development program.
When will the work be done?
The work will take place over a two year period starting in January 2007.
What do I need to participate?
Anyone with a servant heart can participate on the team. You don't need to be a skilled tradesperson. You'll be amazed at how much you can learn in a few days.
Is it expensive to participate?
A two week HopeLink trip costs about the same as you would pay for an all-inclusive holiday in the Caribbean ($2550). But the rewards, besides a tax receipt, will last far longer than your suntan. Tax receipts will be issued to you which will reduce your cost by 35 - 40%.
For more information about this work team project, please call our hotline at 905-451-4000 or contact us at:
HOPELINK INTERNATIONAL
6 - 295 Queen St. East, Suite 475
Brampton, Ontario
Canada L6W 4S6

Phone: (905) 458 8269
Fax: (905) 799 8173
Email: